As many of you know last night were The Academy Awards, or the Oscars. The Oscars to me says everything Old Hollywood, lights, red carpet, diamonds and of course that golden statue. The one night a year many of us wish we could have an occasion (or attend) were we could have these beautiful gowns, our boyfriends, husbands, or any male on your life's look dashing in a classic tux. But, I, guess for the high school age group prom will have to do, until we get married.
Maggie Gyllenhaalen & Peter Sarsgaard.
Maggie, yet another one of my favorites, looks wonderful wearing a Dries Van Noten.
Sarah Jessica Parker and Matthew Broderick.
To all of you Sex and the City lovers in advance you may want to scroll down, now.
What was on SJP's mind when picking this dress? just because it's Chanel doesn't mean it should be worn. It reminds me of a very $$$ potato sack, with flowers on the top to high light the amount of potato's. And the hair, I cannot go on about the hair.
Kristen Stewart.
I have to say it, Kristen Stewart looks good, a huge step up from skinny jeans and band tee's. Now Kristen, would a smile to go along with your Monique Lhuillier dress have hurt? other wise you look nice.

Anna Kendrick.
Anna Kendrick, looks simply romantic in a pale pink Elie Saab gown. Two thumbs up, Anna.
Miley Cyrus.

Miley, wow, she looks very pretty. Normally I am not a fan of Miley Cyrus's choice of dress, but really I eat past words said, great choice Miley.
Best actress, Sandra Bullock.
Sandra Bullock, looks wonderfully beautiful.
Yet at the same time I am in a love hate with the dress. Yes, it is the Oscars, but she reminds me of a female Oscar award. Someone convince me 100% of the dress.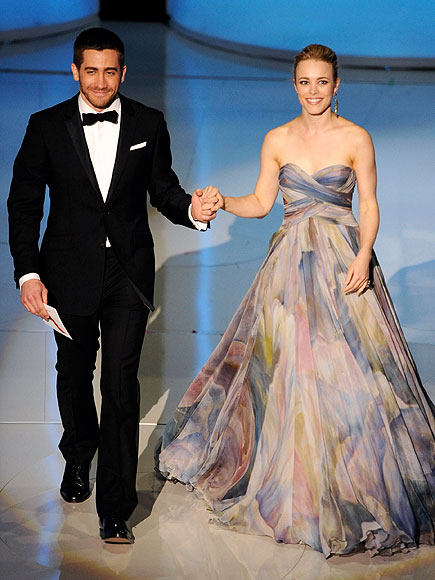 Rachael McAdam's and Jack Gyllenhaal.
Rachael's dress is one of, if not, my favorite dress from the awards. Her dress reminds me of a painting dipped into water and left to dry, then wow! what a stunning gown. Very soft and romantic, lovely. Jack Gyllenhaal as most of the men looks very nice in his tux.

Ben Stiller, as a "Pandora" wannabe from Avatar.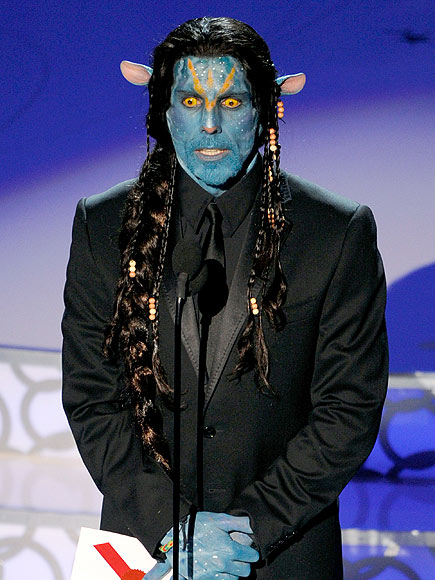 One of my favorite presenters of the night was, Ben Stiller, also along with that crazy long tail and freaky long braid, and quote "This all seemed better in rehearsal". -Ben Stiller.
Who are some of your favorite dressed and of course worse dressed at the awards last night? leave comment below.


-Anna.
Disclaimer: these photo's in this post are NOT mine they were taken from People magazine's website and
www.oscar.go.com
. Again these photo's do not belong to me.